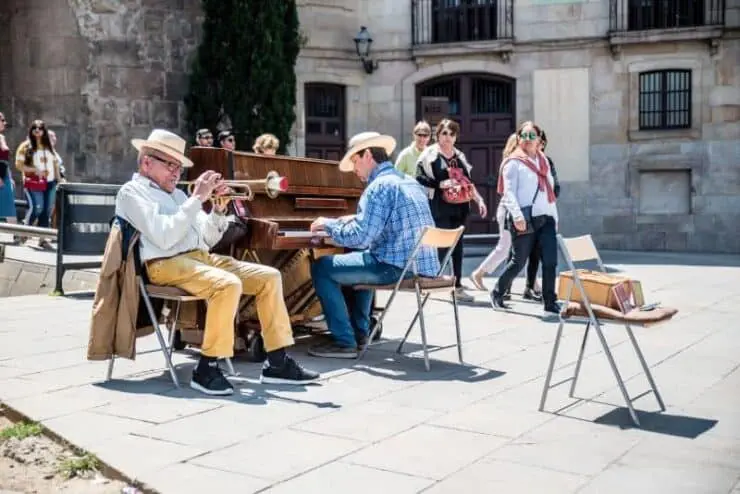 (This article appeared in Cost Management magazine in the January/February 2022 edition. I wrote this article with my friends Michael Mladjenovic and Eli Mberg. Thank you to Gary Kapanowski for reaching out to me and to shepherding us through the process.)
We, the authors, come from different backgrounds, have different personalities and modes of perception; and have had different experiences of Lean and other value management initiatives. The two things that we have in common are a love for music and a passion for continuous improvement. We understand that there are many different approaches to applying Lean, just like there are many different styles of music. We offer you three different reflections on how we have experienced connections between music and Lean.
Of course, we are not the only authors that have made a connection between business and music. Peter Senge (1999) in his seminal work, The Dance of Change, included a chapter on the role of music in system dynamics.[1] Emiliani and Emiliani (2013) drew parallels between lean and music with a focus on flow and shared techniques for value creation.[2] Building on these ideas, we hope to bring our own unique flavours to this relationship and how Lean practitioners can learn from music.
How might you improve your Lean initiative?
By Dr. Michael Mladjenovic
Many organizations start Lean implementation and after some initial success they fail to adopt Lean culture into their DNA. The first common reason for this failure is the organizations' inability to align and create synergy between the Lean core values of purpose, people and processes with the organization's strategy implementation. This transformation needs to happen at the individual, team, value stream and enterprise levels. The second common reason is unsatisfactory Lean methodology knowledge, and the ability to apply learned skills.
So, let's examine Lean methodology first. As an improvement methodology, Lean is defined as a set of management practices to improve efficiency and effectiveness by eliminating waste. The core principle of Lean is to reduce and eliminate non-value adding activities or the eight types of waste. [3]
Figure 1: Option A –Reduction of non-value activities opens opportunities for cost reduction or Option B – Combination of cost reduction and new innovative solutions
Value = Function/Cost
In practice organizations are commonly satisfied with option A which leads to cost reduction. However, option B, which has the potential for further personal and organization growth, is seldom followed. So, let's explore different options for value creation and the definition of value. [4]
Figure 2: Different approaches we can take to improve value
These approaches can be used as a part of Lean events, initiatives and/or programs. For example, we can use them as a part of:
Kaizen/ Rapid Improvement Events
SMED (Single-Minute Exchange of Dies), a system for dramatically reducing the time to complete equipment change-overs
5S, a workplace organization method that makes waste visible which includes the steps: "sort", "set in order", "shine", "standardize", and "sustain"
Quality Function Deployment (QFD), a method for listening to your customers and acting on their needs and desires
Lean tools such as Value Stream Mapping, Kanban, Total Productive Management, Hoshin Planning, Just in Time, Failure Modes Effects Analysis
many other Lean activities
This value-creation theoretical framework creates the comfort of predictability however the question is how we can develop and implement these approaches?
I love music and I love Lean. So here is my "wrap up" of what music can teach us as Lean practitioners.
All musicians start with minimal skills. Some have inherited gifts in their DNA, but practice and commitment are necessary ingredients for building your Lean competence. That commitment is part of a lifelong journey of learning and sharing. The same principle applies to the team and Enterprise Lean Deployment.
Lesson: You need to start small and then grow by practicing and learning. Lean is a journey not a destination
Music allows you to express your self and connect to others. Music creates flow, harmony, and at the same time, allows you to be creative and reinvent new ways to create value. Playing in a group, you create value by creating harmony between elements of the process, people, and purpose. It is a never-ending puzzle which requires that you go to the Gemba; and then, working as a team, you can have a full body experience using all of your senses.
Lesson: Lean is a group sport that enables and empowers your creativity.
Music is predictable, it creates comfort and a sense of beauty. It has a tempo, ranges of pitches, sequences of chords, dynamics, and connections between notes. Once you learn patterns, you can anticipate and predict what's coming next. On the other hand, sometimes jazz sessions allow natural freedom and creativity.
Lesson: Lean creates a synergy between the predictable and the unpredictable.
Music and Lean link people and create both individual and group experiences. This process connects people to their essence ­ who they are. This happens through a conscious and unconscious connection between listening and feeling. Through this magic, we start to see collective purpose and interdependency.
Lesson: Lean connects people with their individual and group purpose.
What Connects Lean and Music By Eli Mberg
Are you a music person or a Lean person? Lean and music have a strong people-processes focus. Whether you prefer Classical, Romantic, Hip Hop, Rap or "Bikutsi"[5] music, no matter your repertoire, we share the same joy.
If you ask me today about the music I liked when I was 15, I will tell you the songs with a couple of stories related to them. I remember the tunes, singing, clapping, bouncing. I can reproduce the same series of emotions and dancing steps. In Cameroon, the country where I grew up, music plays a very big role in our lives. It symbolizes a deep interconnection between the mind and the body and helps us to discover our own authentic self- expression in a safe, creative space. Music-inspired movement becomes the best way to reach others in a positive way in every situation.
"These words are music to my ears" – Many people use this expression when something resonates with their feelings.
What I learned from my childhood listening to these beats, melodies and vocals is that it's always better to focus on what can go right, than what can go wrong. Don't let perfectionism hinder your calling to connect with others. Don't be concerned about making mistakes. Learn, unlearn, adapt, and relearn. The more I think about it, the clearer it becomes for me that music and Lean are interconnected. Both play a powerful role in people development. I think we need music and Lean to survive and grow. I believe that if we can tap into these deep emotions that speak directly to the heart, adequately capture and channel them into our businesses, people's performance in organizations can be improved at lower costs. It can also help us to create more value by understanding the needs of communities and create equitable opportunities for everyone.
I believe that we can replicate the same values we have for music in our organizations as a way of building leadership and improved profitability. Imagine in the future if someone says to you, "These words are LEAN to my ears".
Figure 3:
What can Teams learn from Music by Ruth Stanley
I have worked in different sorts of teams, physical, virtual and hybrid as both a team member, co-ordinator, and leader. Have you noticed that musicians pair up with other musicians and that their roles shift and change over time? They are unafraid to move among and between groups or to experiment with new sounds. I have been a bit like a musician as I have moved often from one group to another, interested in absorbing new information and trying new things. Through this self- imposed journey, I came to understand that the important things are knowing your role in the current group, truly listening, and having those enlightened conversations and interactions that help you to move forward as a team.
Knowledge of and appreciation for music can help.
Have you noticed that the first time you hear some songs, they don't seem like much? The next time you hear them, you see something different that prompts you to listen and listen again. In music, you learn about deep listening. You begin to listen to both the notes and the spaces between the notes. Music lovers can follow different lines of music and shift their attention back and forth among different voices without losing the sense of the overall flow of the music. This type of focus can be applied to other disciplines. (Miha Pogacnik,1999)[6] In this way, music teaches you to be present and to focus on not only what you see and hear at a basic level, but also on the nuances and how you interact with the music. This is a very important skill in Lean initiatives such as Hoshin planning, Kaizen events and Gemba walks. You need to be able to interpret what is said and what is really at play in the pauses. You also need to be able to pick out and follow individual themes or voices, otherwise they could be lost among those that are louder or more persistent. Sometimes it is those quieter, barely perceptible changes in tone or tempo that really make a conversation significant. Like in music, for some this awareness comes naturally and for others this takes continual practice. I wish that I could say that I have mastered both the piano and the ability to truly listen and juggle multiple voices, but I need more practice.
I love the Blues, Jazz and Bluegrass. To some it is a mess, but there is a structure, despite its unpredictability. It is this blend between structure and unpredictability that I enjoy. Watching different musicians interact, I can see that the musicians can maintain an almost seamless flow between standard and improvised sequences. So how do they do this? You may have noticed how tight the musicians in a jazz or blues ensemble are and how they create the psychological safety[7] needed to experiment. Not only are they "in tune" with their instruments; they are "in tune" with each other. They listen carefully for places where they can intervene with new musical phrases and watch each other for cues as to how to move forward in the improvised pieces. Each member has their moment to shine. There will be the little nods to go on or the small smiles when a new trill or sequence has hit the mark. At the same time, there is a strong and steady beat from either the drums or the rhythm guitar that keeps them on track. So, in Lean practice, standard work can provide the steady beat. Like among musicians, it is the team that enables and appreciates improvements yet works to smooth out any issues that affect the rhythm of the work overtime. A team that can use their deep listening skills could comfortably toggle between experimentation and standard work, integrating the various voices of their team members to achieve optimal flow. I can't think of a better partnership to form strong teams – Music and Lean.
Conclusion
Whatever your approach, we believe that quality practitioners can learn from music whether it helps to define or manage value, grow as an individual or excel as a team. Music reflects the human condition – joy, love, sadness, anger, empathy, playfulness. As a Lean practitioner or cost manager, you know how a product or service travels end-to-end, but can you use the feelings that go along with this journey to improve? We challenge you to take what music teaches us to bring the sense of wonder, fun, and exuberance into your continuous improvement initiatives while respecting the multilayers of complexity in your processes.
The Authors
Ruth Stanley is the founder of Boann Consulting and a former Region Director of the ASQ Canada Greenland Region. Ruth has 30 – plus years of experience in cost management and value creation, which includes 25 years in the Canadian public service in business planning and performance management.
Michael Mladjenovic, Ph.D., is a Master Black Belt whose professional experience includes senior leadership positions in manufacturing, engineering, continuous improvement, and quality assurance. During his work in the automotive, food, electronic, and health sectors, Dr. Mladjenovic has led a number of initiatives related to the development and implementation of enterprise quality and business systems. He has conducted trainings and workshops on Six Sigma, Design for Six Sigma, business process management, project management, value engineering, lean manufacturing, Theory of Constraints, and TRIZ. Dr. Mladjenovic is an ASQ Certified Quality Auditor, reliability and quality engineer, and registered professional engineer. He holds a B. S., a master's, and a PH.D. in Mechanical Engineering and Business.
Elisabeth Mberg is a technical consultant in industrial automation and the founder of CPAAL Technology and Solutions. CPAAL is a company that specializes in the implementation and support of machine / process operation. Elisabeth's combined 10 – plus years of experience as a project manager and process engineer has given her a deep understanding on how organizations must drive sustainable growth through transformation. She understands the upstream and downstream requirements of a well – designed process and equipment installation, which can and should meet the needs of all stake holders. She has lived in Germany and France where she did her studies and had the privilege of working closely with diverse teams globally.
---
[1] Pogačnik,Miha (1999), "Music, Listening, and Freedom Some principles for coaching the senses"
Senge, Peter M.. The Dance of Change. 1999. (p. 152-157). Crown. Kindle Edition.
[2] Emiliani, M.L. and Emiliani, M. (2013), "Music as a framework to better understand Lean leadership",Leadership & Organization Development Journal, Vol. 34 No. 5, pp. 407-426. https://doi.org/10.1108/LODJ-11-0088
[3] Techniques of Value Analysis and Engineering, Lawrence, D. Miles, McGraw-Hill Book Company, Second Edition, 1972. Value Analysis, Second Revised Edition, Carlos Fallon, Triangle Press, 1980
[4] Here is a reference to value analysis definitions. https://www.valueanalysis.ca/vadefinitions.php?section=definitions
[5] Bikutsi music is a genre popular in my native Cameroon.
[6] Pogačnik, Miha (1999), "Music, listening, and freedom – Some principles for coaching the senses"
Senge, Peter M. The Dance of Change. 1999. (p. 152-157). Crown. Kindle Edition.
[7] The Canadian Mental Health Association has some fun demonstrating psychological safety in musical style. https://www.youtube.com/watch?v=1b6rErMkP9M&t=501s.