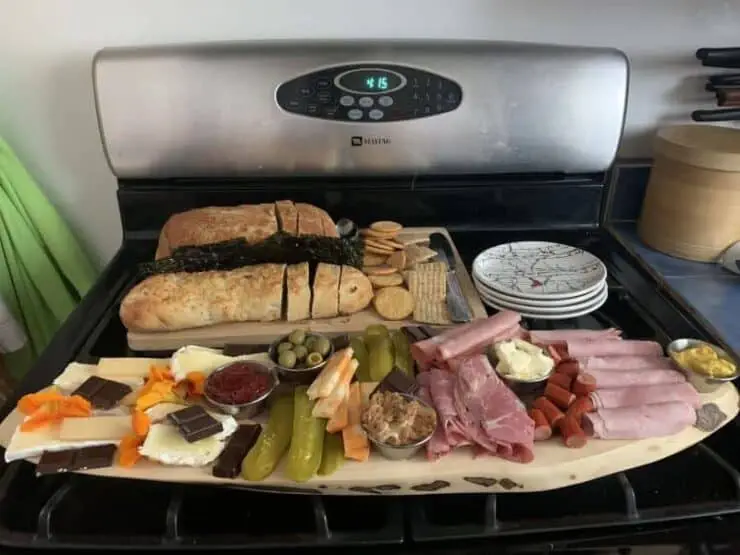 Does creativity have to be deliberate? For me, there is a real joy in puttering around with no clearly defined destination. The results are sometimes spectacular.
Why do I say this? Let me tell you the story of my first charcuterie board.
A few weeks ago, I didn't even know what a charcuterie board was. I spied one at a woodworking shop and fell in love with it. It was a piece of a single pine tree with a brown central core and hints of brown bark around the edges. I knew that it would be lovely as a centre piece for our bar, so I bought this partially finished board for my husband's birthday. He too saw the beauty in the piece. He finished it and polished it with beeswax to bring out the natural luster of the wood.
I left our new charcuterie board on the bar, thinking how beautiful it looked. It was my new neighbour who pushed me to explore. She asked if it was ok to pick some of my red currants, explaining that she wanted to make some jelly for a charcuterie board. Of course, I started to google images of these boards. I was intrigued, but busy with other things.
In my usual fashion, I woke up one day and decided to try my luck with a charcuterie board. But where to start? I knew I wanted cheese and some deli meat. My daughter volunteered to get some with her friend. "Let's see what she comes back with", I thought. There was brie, camembert, mortadella, salami, and pancetta to work with. I knew that I had some crackers at home, so I hadn't mentioned anything about bread. On a whim, my daughter also bought focaccia flavoured with rosemary and a small loaf of artisan bread with green onion and parmesan. Perfect, I didn't have to make all the choices. This was a lovely surprise.
With no clear idea of how much of this would go onto the board and what the finished product would look like, I set to work. I cut some cheese and placed it on one end of the board, thinking, "Hmmm, that looks kind of white." So, I added marbled cheddar cheese. What else could I put on the board to provide a pop of colour? Why not Nasturtium flowers? They have a warm orange colour and a nice zingy taste.
At the other end of the board, I started to place rolled-up meats. Olives and dill pickles provided some nice green accents. What else did I need? I could prepare some spreads, but what would I put them in? Thinking through my pots, I found something small enough to fit on the board. I had a few molds for chocolate cups that would answer.
I settled on a small pot of hot pepper jelly, and some home-made curry mayonnaise. Still experimenting, I mixed some cashew butter with yoghurt and Maggi. The result was a mild Satay-like spread. I rounded out the charcuterie board with a pot of whipped butter and a few squares of chocolate. Well satisfied, I put my finished masterpiece on the stove and put the two types of bread along with a few crackers on a wooden cutting board. Side-by-side, the two boards were certainly picture worthy.
We, my husband and I and my daughter with a friend, sat in the living room, delicately picking at our feast as we talked. Later telling my youngest son about it, I said, "Such a civilized way to eat!" Of course, he laughed at me, well used to my experiments and the odd things that I say. What a success! It was a great meal. But somehow, it was the process that intrigued me more. It was a real joy to surrender, to go wherever the muse took me. Naturally, I did do some preparation as I had some ingredients to hand and bought others. I was, however, content to start without expectations, take my time and let my creativity unfold. Sometimes discovery is more powerful than a defined and systematic process. A small idea can grow into something bigger and better. I will see if this holds true for my next charcuterie board.